ARCPANEL Firetek PIR Roof Panel – tested for bushfire resistance up to BAL 40 (AS 3959 – 2009)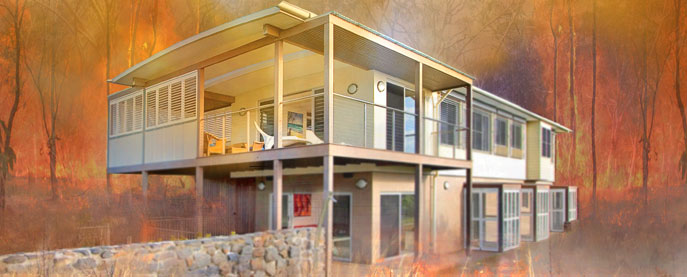 Minimum roof pitch 5°



Minimum roof pitch 2°
The ARCPANEL Firetek PIR Roof Panel is our new PIR core Firetek roof system tested for bushfire resistance up to BAL 40 (AS 3959-2018).

In response to bushfire attack level ratings, ARCPANEL is proud to introduce its new Firetek roof system; a pre-fabricated insulated panel that consists of two Colorbond® sheets which are bonded to a fire-retardant PIR core.

I like the simplicity of the ARCPANEL insulated roof system. Architecturally, I was attracted to the incredible cantilevers provided with such a thin elegant profile. Structurally – it can achieve enormous spans and on an environmental note, it provides terrific thermal comfort and is re-usable.

Scott Carpenter, Scott Carpenter Architect
Span Tables & Thermal Ratings
A pre-fabricated insulated roof panel with a fire resistant PIR core tested for bushfire attack levels up to BAL 40; making it the ideal solution for all roof applications in bushfire prone areas.

> Click here to access document library.
Key Features & Benefits
Warranties up to 20 years
Spans up to 9 metres and cantilevers up to 3 metres
Superior thermal ratings up to R6.5
Available in various profiles, including corrugated and Trimdek®
Rapid installation

Superior low pitch to 2°
BAL 40 – Tested for Bushfire and Fire Resistance (AS3959 – 2018)
Panel thickness range from 85mm to 150mm
Pre-finished top and bottom sheet
Available Roof Types
Straight Roof



Straight panels can be manufactured up to 24 metres and are suitable for pitches from 2 degrees to 17 degrees.
Curved Roof



Curved panels can be manufactured to suit your design requirements.
Multi-Curved Roof



Multi-curved panels can be manufactured to suit your design requirements.
Product Profile

Product Information
ARCPANEL pre-fabrication starts with standard Custom Orb COLORBOND® sheeting bonded to both sides of a profiled PIR core. The panel yields high strength resulting in large spans & cantilevers along with a high insulation value. Standard ratings from R1.7 to R6.5 can easily be achieved. After the panels are fixed in place, there is virtually no maintenance required other than the occasional wash down of soffits.
ARCPANEL FIRETEK PIR ROOF PANEL (Minimum 2° pitch)

Thickness
75mm
85mm
100mm
125mm
140mm
160mm
175mm
200mm
250mm
R Value
1.7
2.0
2.4
3.1
3.5
4.1
4.5
5.2
6.5
Product Colour Range