Smartek – Fast and simple to install, built-in service core
The ARCPANEL Smartek roof panel is a pre-fabricated structural insulated panel in a contemporary looking trapezoidal profile comprising of Colorbond® steel sheeting, which is bonded to both sides of a profiled fire retardant EPS core.
The Smartek Panel is formed using the Smartspan® profile on both roof and ceiling side of the panel. Suitable for roof pitch 3°+ applications and thermal performance up to R4.8.
The panel's top and bottom sheets are pre-finished in an extensive range of Colorbond ® colours.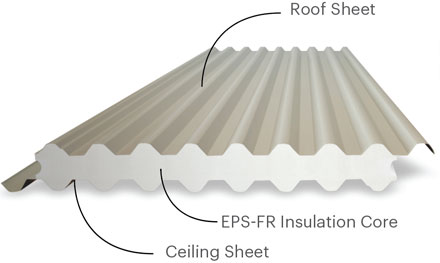 Key Features & Benefits
Achieves up to 10.2m unsupported span which can reduce expensive support structures eg. roof trusses and support beams
The contemporary trapezoidal profile is used on both sides of the panel
Fire rated to NCC/BCA Group 1, roof and wall lining material
Meets BCA bush fire ratings up to BAL 40
Minimum roof pitch as low as 3°
Cantilevers of up to 4m
Smartek is available in Colorbond ®, XRW, Ultra and Zincalume on both sides of the panel
Fast and simple to install, built-in service core
High comfort, all in one insulated roof system
Peace of mind – up to 20 years warranty (conditions apply)
Panel Applications

Straight Roof
Straight panels can be manufactured up to 20 metres in length. Panels can be joined to achieve longer runs, contact us for details.

Curved Roof
Curved panels can be manufactured to radii greater than 60 metres.
Panel Dimensions
Standard panel thicknesses are available (other panel thicknesses are available upon request):
Overall thickness in mm
Product Summary
| Panel Profile (Top/Bottom) | Smartspan®/Smartspan® |
| --- | --- |
| Min Roof Pitch | 3 deg |
| Max Span | 10.2m |
| Max Cantilever | 4.0m |
| Max Length | 20m |
| Min Length | 1.2m |
| Min Curved Radius | 60m |
| Thickness | 100 to 200mm |
| R-Value | R2.4 to R4.8 |
| Cyclonic Rating | – |
| BAL Rating | BAL 40 |
| Group Fire Rating | Group 1 |
| Xtreme Option | No |
Smartek Project
Using an appealing combination of ARCPANEL solutions, Latitude Architects utilised 1200m2 of ARCPANEL Ecotek roof panel for the roof and 800m2 of ARCPANEL Smartek roof panel on the walls in their design for Mazenod College's Provence Centre.

Panel Colours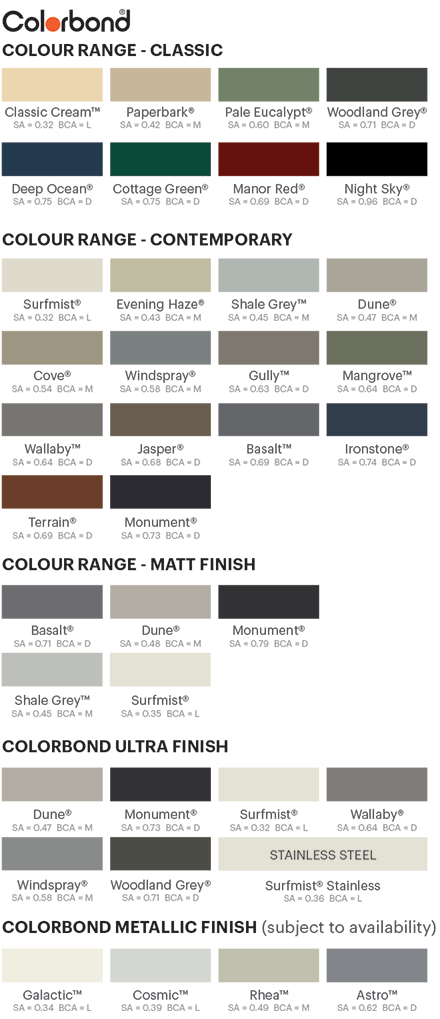 Colour swatches are provided as an indication of colour only and may not be an actual representation of colour. We recommend checking your chosen colour against an actual sample of the product before purchasing.
Corrosion resistant options available for coastal applications – please contact us for more details.
Smartek Technical Documentation
Our latest Smartek electronic reference material is available online for you to view or download. To access detailed ARCPANEL technical documentation such as 'ARCPANEL Roof Design Guides' please
click here
an enter your details via the form.
Hard copies of our literature are available, please contact us on 1300 200 004 and provide your contact details.
If you cannot find the technical information you are looking for, our Sales Support Team can assist you with any document enquiries – 1300 200 004 .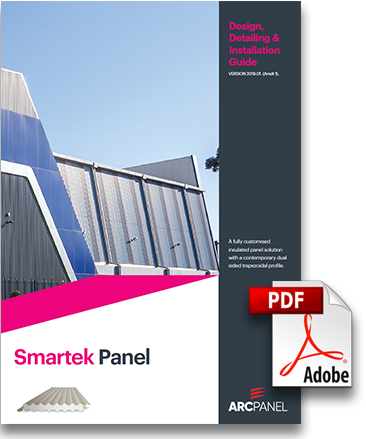 Need help with any of our products?
Call ARCPANEL for assistance on 1300 200 004 or send an enquiry via our contact page.
Recent Projects
Recent News
0 Comments
ARCPANEL – New office and manufacturing plant, 42 Dacmar Rd Coolum Beach. Over the Christmas and New Year break, the...
Read More →
0 Comments
ARCPANEL is committed to the health and wellbeing of its team, clients and suppliers. To our valued customers, suppliers and...
Read More →
Why Choose ARCPANEL?
Up to 20 years warranty available – for peace of mind
(subject to conditions).
Utilise our comprehensive drafting service to ensure your building is manufactured to the correct requirements.
Fast track the construction of your project by reducing the floor cycle times.